Hello Gleeks!  Last night Grease was the word as GLEE took on the second part of its "Grease" themed episodes.  Every single tune was from the smash hit Broadway musical and the GLEE takes on them all had some great things about them.  Musicals are one of those things that you are allowed to mess with and even though the musical arrangements were fairly deadpan, the few little switches they made played to the strengths of the actors.  The episode wasn't as clean cut as I would have liked to see it, and things got a little messy out there, but I guess you have to continue telling a story as well as grace the masses with the songs of one of the most well known musicals out there?
So Finn is taking over glee club while Mr. Schue is gone and I'm excited to see how things go for him.  I wanted Finn to man up and in this episode it seems like he's going to start to do so.  Even if Sue has once again declared war on the club, all because of Finn's slip up last week when he insulted her baby.  Taking the gents to the car shop to method act "Greased Lightning" was a brilliant idea and I loved everything about that performance.  Ryder has got some major vocals!  I wish we could have seen a little bit more of Sam's Kenickie though.  And did anyone else notice how they tamed down the lyrics of the song, which is actually quite raunchy in the original?
Ok, so Kitty is a total bitch.  Taking in Marley's costumes so that she felt like she was getting fat, and the trying to talk Marley into teaching herself to throw up, really didn't settle well with me.  That whole part of the story line was just a little too twisted for my liking.  I understand where the writers were coming from, but I think they took the whole thing a little too far.  And Marley seems like she's a smart enough girl to figure out what was really going on.  The only good part about the whole thing was Marley's interaction with her mom.  They are a great little family pairing.  Kitty's version of "Look At Me I'm Sandra Dee" was spot on and the whole sleep over thing was well played.
I totally felt sorry for Unique when his parents made him drop out of the play and the role of Rizzo.  I was really looking forward to seeing what he did with the part.  Hopefully Wade gets to starting making more of his own choices soon.  The good thing about it all is that we got to see Santana and Brittany interact when she came back to fill in for Wade in the role of Rizzo.  She sounded great on "There Are Worse Things I Could Do", which has always been one of my favorite "Grease" tunes.  She shared the song with Wade and evil dance teacher Cassie, who ended up kissing Brody…
Kurt and Rachel's decision to fly back to McKinley using Cassie's air miles was one with a mixed response.  Good job for going and supporting your friends, but they both didn't really get complete closure with their exes.  Well, maybe Rachel and Finn did, in a way?  It was messy.
Blaine's rendition of "Beauty School Drop Out" was amazing!  The staging of the song was to die for and I dug it.
Marley also sounded great on her "Look At Me I'm Sandra Dee Reprise".  The girl has got some major pipes and some extreme chemistry with Ryder.  Even though the whole bathroom scene between them was a little weird, it built them to get to the place that they needed to be.  And that little kiss backstage, the one that Jake saw, created some possible love triangle action.
"You're the One That I Want" rounded out the show in both senses.  Pairing both Ryder and Marley together and Finn and Rachel (in Rachel's mind).  It was really cute, and then Finn said he never wanted to see Rachel again.  That's just the way the cookie crumbles sometimes.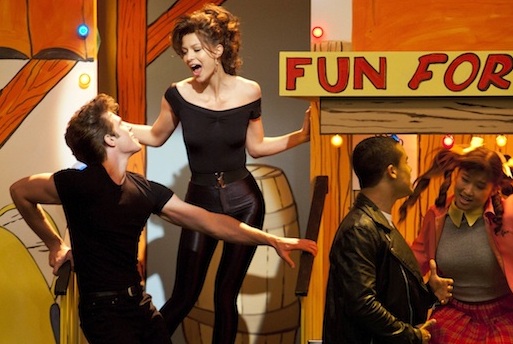 Over all I liked the episode, but I wish they would have focused on the musical aspect a little more.  And what happened to the "Summer Lovin'" number?  It's on the soundtrack for the episode, but it never happened on the show…
I'll see you back here on Wednesday as I give you the low down on next week's musical numbers!